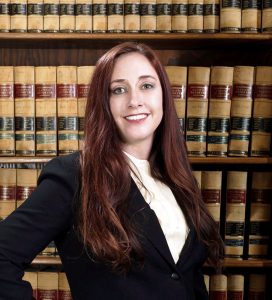 To contact Elisabeth M.W. Trefonas, ESQ., email EMWT@TrefonasLaw.com
Elisabeth M.W. Trefonas, ESQ.
Elisabeth M. W. Trefonas, graduated from California Western School of Law and moved from San Diego, California, to Jackson Hole, Wyoming, in May 2005. Shortly thereafter, she opened her private practice determined to provide exceptional legal services and access to the justice system for every member of her community.
Originally, as one of only three attorneys with expertise in immigration law in the entire state of Wyoming, and the only immigration attorney on the western side of the state, Ms. Trefonas' client base expanded rapidly. Additionally, because Ms. Trefonas was the only Spanish/English speaking attorney in the region (until Ms. Read joined), her practice provided and continues to provide access to the legal system for a severely under-represented segment of the population. In fact, the Spanish-speaking community makes up almost 15% of the population in Wyoming and an estimated 30% of the population in Jackson Hole.
To keep up with her growing clientele, Ms. Trefonas opened Trefonas Law, P.C., which offers a wide array of legal services in June 2006. The office continues to grow and expand, assisting clients with deportation defense, affirmative benefits applications, and representation in civil and criminal matters. As of July 2015, in fact, the office reported 208 open and active cases and 1151 successfully closed cases.
From 2010 to July 2013, Ms. Trefonas was a contracted Assistant Public Defender, appearing in Teton and Sublette County District and Circuit Courts, and a contracted Assistant Appellate Public Defender, appearing before the Wyoming Supreme Court over a dozen times, in collaboration with the Wyoming Public Defenders Office.
As of July 2013, she was promoted to the position of Supervising Assistant Public Defender in Teton and Sublette Counties, and is the only full-time Public Defender in that area. She maintains an exclusive case list of just 30 private immigration cases and balances approximately 90 revolving cases as the Public Defender.
She is admitted to the Wyoming and California State Bars and all Federal Courts.
Ms. Trefonas was featured in the article "Lady Justice, How one woman is waging the battle for Jackson's Voiceless," November 8, 2016.
To contact Ms. Trefonas, email her at EMWT@TrefonasLaw.com
Resume | See "Lady Justice" Article
Wyoming State Bar License
California State Bar License
California Western School of Law
Read more
Rosslyn Read, ESQ.
Rosslyn Read moved to Jackson Hole with her family in 2000 and, after graduating from Seattle University School of Law, joined the firm in 2009. She is a passionate immigrant rights advocate and brought with her an extensive knowledge of immigration law, particularly concerning immigration benefits and defense for victims of abuse and violence. She has worked in the Domestic Violence Unit at the Northwest Immigrant Rights Project in Seattle, Washington, and spent four months in the Refugee Unit at the University of Witwatersrand's Law Clinic in Johannesburg, South Africa, where she provided free legal services to refugees and asylum seekers.
In Jackson, Ms. Read has used her bilingual skills and legal experience to provide thoughtful, competent representation to the community's large immigrant population, and has successfully completed cases involving criminal and deportation defense, family and employment-based immigration, and relief for survivors of domestic abuse and other violent crimes.
When Ms. Read is not in the office, she enjoys spending time with her family, playing her drums, and snowboarding, hiking, and climbing in the Tetons.
Ms. Read is admitted to the Wyoming State Bar and all Federal Courts.
To contact Ms. Read, email her at RR@TrefonasLaw.com
Wyoming State Bar License
Seattle University School of Law

Read more
To contact Rosslyn Read, ESQ., email RR@TrefonasLaw.com
Andrew Hardenbrook
Andrew Hardenbrook joined Trefonas Law in 2018 with a desire to use his more than a decade of legal work experience to advocate for immigration rights.  After graduating from Vanderbilt School of Law in 2007, Mr. Hardenbrook clerked for one year with the Arizona State Court of Appeals.  Mr. Hardenbrook then was employed as an associate attorney for more than seven years with a large law firm in Phoenix and Salt Lake specializing in corporate bankruptcy proceedings.  In 2016, Mr. Hardenbrook left the practice of law to become a special agent with the Federal Bureau of Investigations in the Los Angeles Field Office.  After more than two years with the FBI, Mr. Hardenbrook returned to the practice of law and moved from Los Angeles to Jackson in 2018 to be closer to his wife, Dr. Jacqui Hardenbrook, who is a pediatrician in Jackson.  He has proficiency in Spanish and basic Portuguese.
Outside the office, Mr. Hardenbrook enjoys skiing, hiking, and playing golf and tennis.
Mr. Hardenbrook is admitted to practice law in the Arizona and Utah state courts and federal courts.  Mr. Hardenbrook currently is pursuing is Wyoming state bar license.
Employment Opportunities
Trefonas Law is seeking professional part-time and full-time paralegal and attorney applicants. Bilingual Spanish/English REQUIRED. Please send cover letter, resume, and references to EMWT@TrefonasLaw.com, no phone calls, please. Salary commensurate with experience, health/dental benefits included.
 Trefonas Law, PC
80 E Pearl Ave
PO Box 2527
Jackson, WY 83001
(307) 203-9019 phone | (800) 572-6458 fax