To contact Elisabeth M.W. Trefonas, ESQ., email EMWT@TrefonasLaw.com
Elisabeth M.W. Trefonas, ESQ.
Elisabeth M. W. Trefonas, graduated from California Western School of Law and moved from San Diego, California, to Jackson Hole, Wyoming, in May 2005. Shortly thereafter, she opened her private practice determined to provide exceptional legal services and access to the justice system for every member of her community.
Originally, as one of only three attorneys with expertise in immigration law in the entire state of Wyoming, and the only immigration attorney on the western side of the state, Ms. Trefonas' client base expanded rapidly. Additionally, because Ms. Trefonas was the only Spanish/English speaking attorney in the region (until others joined her firm), her practice provided and continues to provide access to the legal system for a severely under-represented segment of the population. In fact, the Spanish-speaking community makes up almost 15% of the population in Wyoming and an estimated 30% of the population in Jackson Hole.
To keep up with her growing clientele, Ms. Trefonas opened Trefonas Law, P.C., which offers a wide array of legal services in June 2006. The office continues to grow and expand, assisting clients with deportation defense, affirmative benefits applications, and representation in civil and criminal matters.
From 2010 to July 2013, Ms. Trefonas was a contracted Assistant Public Defender, appearing in Teton and Sublette County District and Circuit Courts, and a contracted Assistant Appellate Public Defender, appearing before the Wyoming Supreme Court over a dozen times, in collaboration with the Wyoming Public Defenders Office.
As of July 2013, she was promoted to the position of Supervising Assistant Public Defender in Teton and Sublette Counties, and is the only full-time Public Defender in that area. Recently a local, prominent judge asked her, "Why would an attorney from Jackson Hole with a thriving private practice also want to be a Public Defender?" To which she replied, "Because I enjoy defense work and every person, irrespective of their economic status, should have the best attorney."
She is admitted to the Wyoming and California State Bars and all Federal Courts.
Ms. Trefonas was featured in the article "Lady Justice, How one woman is waging the battle for Jackson's Voiceless," November 8, 2016.
To contact Ms. Trefonas, email her at EMWT@TrefonasLaw.com
Read more
Milessa Ortiz de Jesus - Paralegal
Milessa Ortiz de Jesus graduated from the University of Puerto Rico in 2009, where she majored in Anthropology. Soon after, she moved to Granada, Spain for two years, where she attended graduate school and lived through some of her most fascinating experiences. When she moved back to Puerto Rico in 2011, she was given the opportunity to work for the U.S. Forest Service's Forest Inventory and Analysis National Program (FIA) and started an exciting five-year journey that brought her to Montana, Utah, and finally, Driggs, ID, where she has lived since 2013. After the U.S. Forest Service, Ms. Ortiz de Jesus worked for the National Museum of Wildlife Art in Jackson, Wyoming, for three years, where she developed her leadership and other skills both personally and professionally.
She joined Trefonas Law in 2018, bringing an incredible passion for fairness, equality, and justice to the firm. She is the first point of contact with clients and interacts with them on a daily basis with the utmost respect and kindness. Her compassion, dedication, exceptionally high work quality and ethic, keeps the firm running optimally and makes it a positive place to be and work.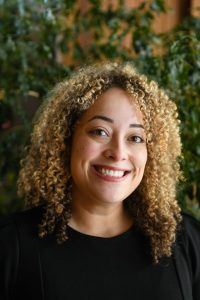 Melanie Flemma - Paralegal/File Clerk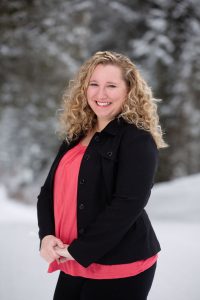 Melanie Flemma is that rare individual who is a "true local" because she was born and raised here in Jackson, Wyoming. She graduated with a Bachelor's degree in Business Administration with a minor in Criminal Justice in 2010 from the American Intercontinental University. She is finishing three classes to complete her Bachelor's degree in Accounting at Western Governor's University.
Melanie was employed in various regional jobs, with an extensive background in human resources, accounting, and banking, which gave her a well-rounded outlook on the community as a whole. In all of her work,  she strives to strengthen and maintain her passion for helping those in need.
Melanie joined Trefonas Law part-time in August 2021 and rapidly developed essential paralegal skills and knowledge about immigration, criminal, and family law processes, quickly becoming necessary full-time support for the firm. She is a crucial team player for Trefonas Law, and the firm relies on her daily support, compassion, and sense of humor. Melanie continues her passion for learning, using her talents to help others, and developing her legal knowledge. While raising and caring for a large family and supporting Trefonas Law full-time, she endeavors to continue her legal education. Trefonas Law may someday see her re-hired as an attorney.
Employment Opportunities
Trefonas Law is seeking professional part-time and full-time paralegal and attorney applicants. Bilingual Spanish/English REQUIRED. Please send cover letter, resume, and references to EMWT@TrefonasLaw.com, no phone calls, please. Salary commensurate with experience, health/dental benefits included.
 Trefonas Law, PC
175 S. King St., Suite 100
PO Box 2527
Jackson, WY 83001
(307) 203-9019 phone | (800) 572-6458 fax